POSTAL ADDRESS
Metropolis Entertainment
PO BOX 3685 MARSFIELD NSW 2122
CONTACT OUR CONSULTANTS

Peter O'Regan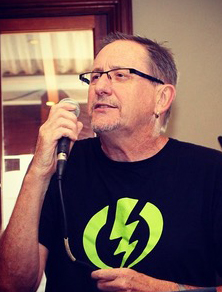 Peter O'Regan is the founding member of Metropolis Entertainment. As a professional musician himself, Peter brings a wealth of knowledge and experience to our clients; both venues and musicians.

Metropolis Entertainment was formed in 1990 as a Venue Consultancy business. Over the years, and in collaboration with Raoul Graf, Peter has developed the Metropolis Entertainment brand to service Sydney venue's in a wide range of ways. From Agency Services with Booking Entertainment, through to Venue Consultancy, Event Promotion and Event Management.

Peter O'Regan is an Executive Agent specialising in Entertainment for Hotels and Clubs.
Peter O'Regan
Metropolis Entertainment
Mobile: 0417 278 866
Email: petero@metropolis-ent.com
Raoul Graf
Raoul Graf is the Associate Director of Metropolis Entertainment and Director of sister agency Acoustic Caravan. With 30 years experience in the Australian music industry, Raoul Graf is a musician first, and can be found performing weekly at venues and functions across Sydney.

In the 1980s, Raoul Graf had some success in the Australian music scene performing solo, and with his bands 'Bell Jar', and 'The Infidels'. He founded Acoustic Caravan with the goal to book great entertainers for venues across the East Coast and nationally. With a BA in Communications and a Masters in Management, Raoul also ran a record label (Um& Ah records) with Sab Chase at MGM.


His experience as a tour agent and venue consultant fuel his passion for live music for venues. His success is seen in the relationships he has developed with clients across Sydney. Always chasing a gig, he is happiest booking dates and seeing emerging musicians become established through the support of great venues.

When he is not dropping into venues and his artist's gigs, Raoul can be found in the studio working on his new original album, or in the East Ryde office putting together of new Tribute shows, shows for solo, duo and bands and continues to book other forms of entertainment.

A professional booking agent who is fiercely loyal to his customers and a driving force in the Sydney Entertainment Industry.
Raoul Graf
Metropolis Entertainment and Acoustic Caravan
Mobile: 0417 692 349
Email: acousticcaravan@hotmail.com

Joanna Pelaia
Joanna "Jo" Pelaia is Metropolis Entertainment's Office Manager, Bookeeper and Booking Agent. Jo joined the Metropolis family over 13 years ago. Jo holds a Bachelor Degree in Economics (Finance), with music a fundamental part of her life since early childhood with a background in Classical Piano.

A natural people person, Jo has developed into an excellent Venue Consultant and guide for emerging musicians. Working closely with clients, Jo is passionate about matching the best musician for the venue's she is supporting. Utilising social media and graphic design skills, Jo plays an integral role in publicising events, and promoting acts and venues. Her creativity, combined with her dedication to promote
every artist, allows Jo to showcase the personality of her artists and venues to ensure her events appeal to a wider audience through these platforms.
Joanna Pelaia
Metropolis Entertainment
Mobile: 0422 082 087
Email: joanna@metropolis-ent.com
Instagram: #joeypelaia