Hotel California - Eagles tribute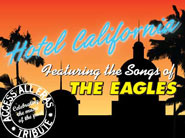 Access All Eras presents HOTEL CALIFORNIA – A Tribute to The Eagles Access All Eras presents: This 'Best Of The Eagles' show is a phenomenal act that features some of the best musicians in Sydney. It has been incredibly successful at venues including the Kirribilli Club, Shoalhaven, Hazelbrook, Brass Monkey, Balgowlah RSL, Colloroy Beach Club and Cumberland Golf Club over the last few years and has captivated crowds with its perfect harmonies and chiming guitars
The Access All Eras crew have honed their skills with this show to bring to life the ultimate in Californian rock, where song writing and musicianship meet at the highest level. The brilliant song writing of Don Henley, Joe Walsh and Glenn Frey are brought to life by the Hotel California (Syd) band. This is an amazing show featuring all the big hits by the Eagles, reproduced by some of Sydney's best musicians. The last 2 performances of this show at The Basement received standing ovations. From Life In The Fast Lane, Heartache Tonight, Taking It Easy, Desperado and Hotel California, the songs are memorable and lovingly played by these top shelf musicians.
TRIBUTE